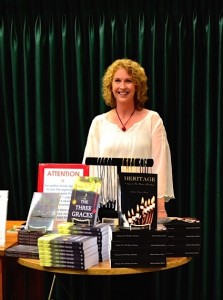 It was one of those random chance meetings a little over a year ago, that when I look back, I know it could have gone any which way. I stopped by a table. I said hello. I picked up a business card. Simple really, but life changing. As each new step came along, I kept saying yes. It felt right and I was open to taking a chance. Taking a risk.
That's how the path to publishing started for me. It's been a dream of a lifetime. A wild ride. I've been calling it serendipitous and fortuitous even with all the little bumps in the road.
Thank you Brilliance, Joy and Bloom for getting me here. I've got snapshot memories, brilliant colors in my mind, like Isabel's cave paintings. I've got new stories waiting to pour out, like Sara. And I've got a song in my heart, like Jessie.
I'll never forget touching the cover of my book for the first time, the faces of friends and family cheering me on, glasses lifted in a toast, a pen in hand signing my name with a flourish, or standing at a podium looking out over a sea of faces eager and waiting.
What's your dream? Whatever it is, big or small, it's never too late, you are never too old, to make it happen. Create a story for your life that speaks to your true self, fashion yourself in ways that feel good, and trust. Trust. Trust.