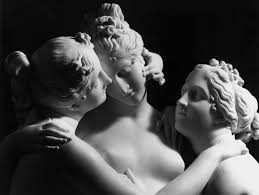 Whether we are parents watching our children grow up, children watching our parents grow older, or seeing our own selves enter a new stage in our lives, we know that time is our ultimate resource. A constant in our lives, time can be friend, foe, companion or adversary and many other things in between. Time has been many of these in my journey over the last twelve years withThe Three Graces; ten years writing it and two years since publishing it.
Time is also a principle element in crafting a good story. I like to explore our everyday physical reality versus our conscious experience in my writing, as evidenced in The Three Graces and as you'll see in my latest writing project Atoms of Memory. How we mark time and the flow of our lives through it, is complicated. It's not something we usually talk about, except in the most mundane ways, because of its complexities. And its sometimes capricious and ethereal qualities.
In reflecting on the last two years since The Three Graces' publication, I can say that time has been good to me: its length, its fullness, its richness, its challenges.  Most importantly, it has offered delightfully unexpected moments of connection with new people and given me new experiences that I'll remember and cherish.
For me, it has been a journey where growth equals happiness. And this writer's ultimate hope: for readers as they journey through my story, too.