Road Trip to San Simeon, California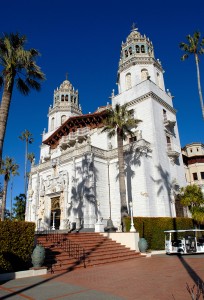 My first trip to Hearst Castle, over 25 years ago, was the initial inspiration for my novel, The Three Graces. I have taken other trips there over the years and it has never failed to inspire me. Recently, my husband decided that since his wife had spent all this time and energy writing about a statue at the castle, he'd better take a look himself.
We booked a room at the Morgan Hotel and it was perfect.  The walls were decorated with original sketches of tile designs by Julia Morgan, architect extraordinaire. Sleeping there felt ALMOST like my husband and I were home.  The continental breakfast of boiled eggs, sesame bagels and 'churros' was delicious.  I had to stop my husband from eating them all!
We arrived at Hearst Castle early in the morning as fog hung low over the hills. It wasn't until we were boarding the bus for the first of two tours, that the fog burned off and we could see the castle above us. Really a sight to behold.
We saw the main rooms first and then the upstairs rooms. The guides were witty, fun and informative.  The art, furniture and tapestries took us to centuries past: Greek, Roman, European and early American.
It was cool to stand behind the window in Mr. Hearst's' private bedroom and look out over the palm trees to the sea.  To imagine myself as a guest sitting next to him at dinner or swimming and playing tennis with other famous visitors of the day. Knowing that there were atoms of memory left there by all those people of the past made me feel a part of the history of the place.
In between tours we walked freely around the gardens admiring the plants and sculptures. And of course we found The Three Graces, in all their glory, stark white and brilliant in the sunshine. We took many photographs. Spring was in full bloom and there were bright flowers everywhere.  Their horticulturists keep all the plants and trees well-trimmed and the fountains well-stocked with lily pads and koi.
The nearby town of Cambria has great restaurants and shops; definitely worth a stop. And our walk along the deserted beach was the best end to our weekend getaway we could've asked for.
[us_separator type="invisible" size="huge"]
[us_image_slider ids="2961,2958,15,14,13,12,9,10″ type="1″]