Know Who Your Friends Are and Keep Them Close!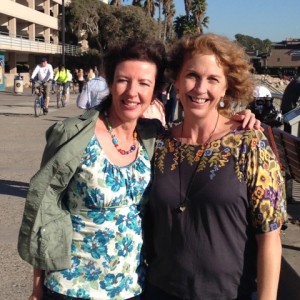 The theme of friendship is a key element and a central part of my novel. Just as, I believe, friendship is essential to most women's lives. My writer friend, Eva Finn, has some words of wisdom on the subject that I asked her to share with you. Here's her take on friendship from her blog Wise Before 25.
They say it's hard to know who your real friends are. And they're not kidding. Whether you're single or married, the love and friendship of close female friends is not a luxury – but a necessity for survival. Like air or water. It's good to know early on the difference between an acquaintance and a true friend. It's taken me a long time to learn and appreciate what those differences are.
For example, a true friend:
Applauds your successes
Tells you the truth (even when you don't want to hear it)
Encourages you to be your best
Holds your hand and hugs you when you cry like a baby at practically every song at a Diana Krall concert, especially this one, "Just Like a Butterfly That's Caught in the Rain:" http://http://www.youtube.com/watch?v=9xn42tQkKzw
Eats carbohydrates with you, although they appear to have been banned by the entire female race
Makes you feel like you hold a special place in their heart
Shows up – even when they may not feel like it
Tolerates your quirks and your cooking
Supports you in ways no one else can
These are just a few of the things that come to mind when I think of the women I'm fortunate enough to count on my left hand. In a recent Huffington Post article, Lena Dunham's character in "Girls," Hannah Horvath wrote, "A friendship between college girls is grander and more dramatic than any romance." The article further stated, "We'd argue that this sentiment holds far beyond the confines of university. The women in your life are there for all the serious stuff, like health scares and accompanying you to the funerals of loved ones, as well as the moments that make you laugh until you can't breathe. You can tell them the deepest secrets about yourself and your family, and count on them to pick up the phone at any hour." To read more, check out http://www.huffingtonpost.com/2013/09/06/10-reasons-nothing-like-female-best-friends_n_3874647.html and see how their list compares to mine. So here's a special shout out to my friends! (And you know who you are). May we continue to be there for each other through life's triumphs and tragedies. You might want to give a shout out to yours, too. Word to the wise: Know who your friends are and keep them close. It's not easy making friends and as we get older, it can be even harder. Cherish the ones you have and foster and grow those friendships that you think have potential. What's special about your BFFs? Note: If I'm lucky enough to get a book deal, your comments may be published anonymously in the upcoming book, "Wise Before 25, 50 Things Young Women Need to Know."  
ABOUT EVA FINN
Eva Finn is an award-winning marketing copywriter, advertising instructor and life expert. She started the blog, Wise Before 25 so young women can avoid making the same mistakes she did. This blog will become a book of the same title, which will include contributions from readers. She was also published in a book about the subject of hair– the good, bad and the ugly – called, fittingly enough, Hair Pieces, by the Cary Tennis Workshop. As a copywriter for more than 20 years, she has written ads, brochures, direct mail, radio and television for clients that included In-N-Out Burger, Bank of America, Toyota and Ingram Micro. Eva has a bachelor's degree in English and a master's degree in education. She has taught advertising classes at The Art Institute of California-Orange County and California State University, Fullerton. And she has had plenty of hard knocks from the school of life.